Zucchetti
It was 1929 when Alfredo Zucchetti founded a small foundry in Valduggia (VC). Today Zucchetti has 2 production plants with 35,000 square metres of covered space, 200 employees and 600,000 items produced per year.
All this thanks to innovation, design and quality, all characteristics that have become fundamental pillars for the company.
After achieving extraordinary results in Italy and Europe, Zucchetti also turned its attention to Asia and the United States, opening a branch in China in 2005 and in the United States of America in 2010, becoming a spokesman for "Made in Italy" products overseas. In 2007 Zucchetti revolutionized the company once again by acquiring the Kos brand, a leading manufacturer of high-level bathtubs and shower enclosures, giving birth to Zucchetti. Kos.
The Zucchetti. Kos product line includes: Bath Faucets, Bidet Faucets, Shower Column, Showerheads, Bathtubs. The most iconic series are: Aguablu, Agorà, Savoir, Bellagio.
Check out all the Zucchetti. Kos collections on Aqadecor, if you can't find the product of your dreams, don't hesitate to contact us and request a custom quote.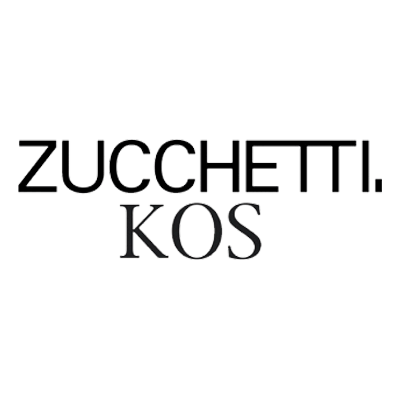 Items 1 to 32 of 191 total
Position

Product Name

Price

Dynamic SKU

Lenght

Finish

Brand

Installation

Size

Version

Shower Tray Height

Taps Finish

Frontal Finish

Collection

Shipping

TUBES Colors

Body Finish

Knob Finish

Ribbed Knob Finish

Function

Flexible Hoses

Waste

Water Inlet

Lighting

Power (Watt)

Layers

Shelves

Doors

Frame

Internal Shelves

Drawers

Supply

Feet

Panels

Designer

Column dimensions
Position