Boffi
It was 1934 when Piero Boffi founded his company. Thanks to the evolution of taste, technology and a sophisticated photographic catalog Boffi has managed to assert itself at high levels for over 80 years. Under the directives of three artistic directors such as: Luigi Massoni, Antonio Citterio and Piero Lissoni in these years have managed to set a new artistic language given by their collections and cult pieces. Today Boffi is constantly looking for new technologies and new design ideas, in fact in 2015 the company in order to have a complete vision for the innovation of home furnishings integrates De Padova, a point of reference in the furniture made in Italy.
Boffi's product line includes: Basin Faucets, Bathtub Faucets, Bidet Faucets, Shower Faucets, Countertop Basins, Suspended Basins, Recessed Basins, Bathtubs, Shower Columns, Shower Heads, Towel Holders, Mirrors. The most iconic series are: Cut, Liquid, Wings and Minimal.
Discover all Boffi collections on Aqadecor, if you can't find the product of your dreams, do not hesitate to contact us and request a custom quote.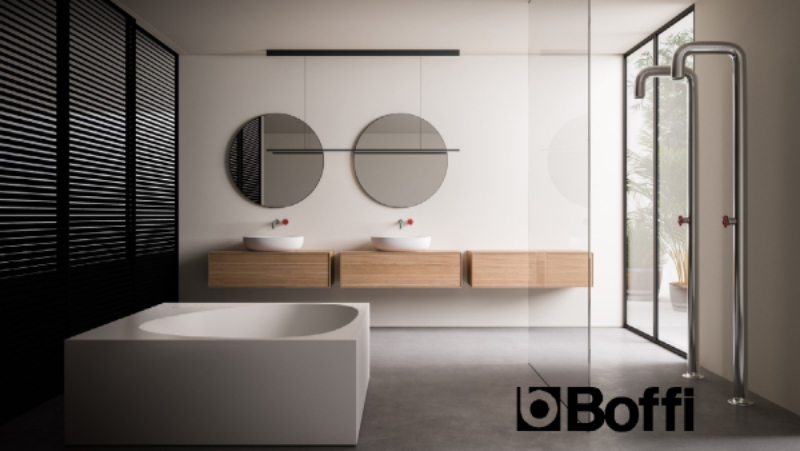 Boffi is an Italian design brand that creates minimalist, elegant and functional kitchens and bathrooms with high quality materials and attention to detail, representing discreet luxury and timeless modernity.
Boffi is a world renowned Italian design brand that embodies excellence in luxury kitchens and bathrooms. Founded in 1934 by Piero Boffi, the company has established itself as a symbol of quality, style and innovation in the field of high-end furniture.
Boffi's philosophy is based on a harmonious fusion of aesthetics and functionality. Each Boffi product is the result of a careful search for the finest materials and innovative design. Boffi kitchens are distinguished by clean lines, essential shapes and meticulous attention to detail. Boffi bathrooms, on the other hand, offer a combination of contemporary elegance and intelligent functional solutions.
Boffi's commitment to quality extends to every aspect of production. Carefully selected materials and craftsmanship ensure durability and strength. Each piece is tailor-made to meet individual customer needs and tastes, creating customised and unique solutions.
Collaborating with renowned international designers such as Piero Lissoni, Naoto Fukasawa and Patricia Urquiola, Boffi has created a series of products that harmoniously combine creativity and functionality. These collaborations have resulted in a range of extraordinary creations that stand out for their bold, cutting edge design, while ensuring a practical and efficient user experience.
With a constant focus on innovation, Boffi continues to redefine contemporary design standards. Their products represent a perfect balance of refined aesthetics, high quality materials and superior functionality, offering a timeless living and furnishing experience. Boffi is the ideal brand for those seeking a unique combination of luxury lifestyle and cutting-edge design.
Items 1 to 32 of 90 total
Position

Product Name

Price

Lenght

Finish

Brand

Installation

Size

Version

Shower Tray Height

Taps Finish

Frontal Finish

Collection

Shipping

TUBES Colors

Body Finish

Knob Finish

Ribbed Knob Finish

Function

Flexible Hoses

Waste

Water Inlet

Lighting

Power (Watt)

Layers

Shelves

Doors

Frame

Internal Shelves

Drawers

Supply

Feet

Panels

Designer
Position