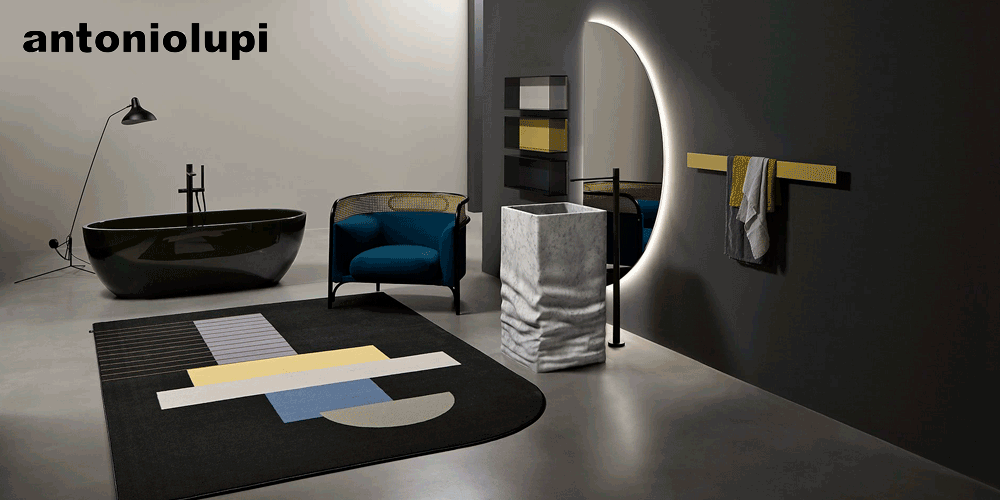 Antonio Lupi ®
Discover the products Antonio Lupi, a brand leader in the production of basins and baths with a high design range. Choose if you want to view the products by category or if you want to browse through the most trendy collections.
Browse through product categories
Antonio Lupi Design is the brand that has revolutionized the world of bathroom furniture. Its history begins in the fifties, when the visionary Antonio Lupi creates a small artisan company, specializing in the processing of crystal and glass, that were transformed into mirrors, applique, chandeliers. Then there were  realized products for bathroom furniture with the name Cristal Lupi Luxor.
In 1969, Antonio Lupi and his brother Andrea, wanted to establish a continuous growth. They opened a new factory that changed the small craft production into an industrial one, with the aim of not following the evolution of design trends but anticipating them.
In the 90s, the company presented its first collection of basins and with a significant phase of growth but the revolutionary idea came in 2002, with the presentation of the first collection Corian and the development of the "total look" for the bathroom, a strong footprint that marked future, clear and concrete business goals.
Today, the company is a solid reality where creativity, innovation and style are the fundamental principles of bathroom furniture by Antonio Lupi.
Antonio Lupi products are unique, for details and quality of materials. Basins, baths and shower plates are created with innovative, resistant materials, with a unique aesthetic and, above all, pleasant to the touch.
The company has been investing in research and innovation for years, in fact, in recent years, has patented materials such as the Flumood, composed of a matrix of aluminum hydroxide and synthetic resins with low styrene, that make every product ecological and extremely resistant. Another material used in the collections is the Cristalmood, a resin resistant like stone, transparent like crystal, with colorful finishes that makes each product unique and authentic.
The catalogue offers a wide range of products, to satisfy the needs of all customers, especially those with sophisticated tastes. The bathroom, with products by Antonio Lupi, becomes a real atelier, not surprisingly, a collection designed by Marco Ferrarini, has this name.
Some collections has products made of Carrara Marble such as freestanding baths like Eclipse, freestanding basins like Albume by Carlo Colombo and many others.
However, tradition, is a fundamental characteristic that has never been overlooked, and that you can find, for example, in the collection Il Bagno, by Roberto Lazzeroni, with a minimalist design and retro aspects given especially by the use of natural materials.
Shower heads, mirrors, wall mirrors and other accessories by Antonio Lupi, make every bathroom authentic, elegant and trendy.